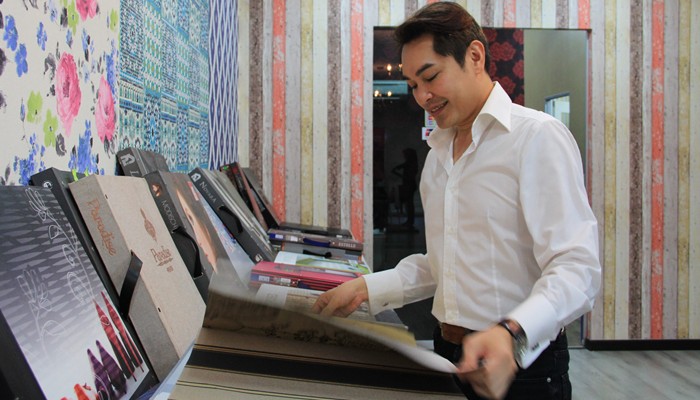 "An interior designer who takes his passion and creativity to a whole new level..." according to The Star Newspaper! So this is my story.
Born in Malaysia and educated in Malaysia and the United Kingdom, my first employment as an interior designer was in 1989. I later pursued my education in the UK and have lived there ever since 1991. I hold a Masters Degree from De Montfort University, Leicester.
You may ask what Nik's style is. Easy! My style is fresh, warm, luxurious and contemporary with an arty twist providing laid back glamour with bespoke artwork and furnishings.
Known for creating easy to live with modern schemes through my lively, playful and sensual approach, I believe that with a little careful planning, design classics and budget can be combined to dazzling effect.
In all my work there is a focus on statement styling. This styling makes use of colours, textures and collectables as well as an awareness of good lighting that defines a space and creates different moods. However, the importance of your lifestyle within your intimate spaces is the design I'm focusing on. The layout of your home has to be planned just for your traffic flow with some areas not to be seen directly by your guests. Let the WOW factor of the rooms be left to the imagination!
I can tailor a project to work with the largest and smallest of budgets. It is designed for your taste, your budget and your lifestyle.
If you are thinking of selling your home and refreshing the look, my goal of a home staging is to emphasise the positive features of your house in order to help you and make a quick and profitable sale. The design will emphasise natural light and brighten up your home and will include arranging the furniture for other people's comfort with a neutral colour palette so buyers can visualise their own ideas when viewing the property.
2000 AND BEYOND
While working full time in the industry, I exhibited my work at the Concept For Living Home & Garden Exhibition & Design Awards 2005. In the same year I started my first freelance interior design work.
In 2012, I registered Nik A Ramli Enterprise in Malaysia which showcases various self designed products such as soft furnishings, publications and interior design talks.
I have been lucky to be able to share in the media my expertise and my love for design and other creative activities. I have appeared alongside some of the UK's most popular BBC and Channel 4 TV presenters at the Concept For Living sponsored Home And Garden Show.
I once designed BBC radio DJ Chris Moyles' home storage solutions. I have provided consultation for 'Strictly Come Dancing' and former 'Casualty' star Georgina Bouzova's London home on an interior emergency to save one of her rooms from design disaster. I was also selected as the conceptual designer for Indian actor Sri Chiranjeevi for his bungalow project in Hyderabad, India.
One of the most interesting aspects of my work was my involvement in a project, organised by Madame Tussauds in association with London's Ideal Home Show, to design a bathroom for stars such as Simon Cowell, Jenifer Lopez and George Clooney. I was asked to provide a critique of the submitted designs, featured in an interior design video.
OUTSIDE THE BOX
Away from my interior design work, I'm also a keen producer of pop art inspired, brightly coloured line drawings and collage artwork.
An avid music fan, I have written a music biography celebrating the musical journey of my all time favourite singer, Donna Summer. The research started as a hobby in 1997 and became a serious venture in 2008, for which I undertook a number of interviews with personalities in the arts and music business, with the manuscript completed and in the process of publcation in 2011. It was released in 2012 titled 'Donna Summer The Thrill Goes On – A Tribute' and was The Book Awards Printed Book Winner October 2014 - The People's Book Awards.
I have also interviewed various personalities for my US magazine column called 'A Conversation With Interior Designer Nik A Ramli'.
CLOSING WORDS
From here, I hope you will get to know me a little. Please browse the site and let's work together to achieve the WOW factor for your home and your business.
I thank you...
Feel free to click the images below for more content
When I'm working in my home office, I love listening to music for inspiration. You can view my complete music and memorabilia collection from 1975 to the present day. I have also included my music articles from my music blog. If you're interested to view my complete collection visit my NIK A RAMLI MUSIC COLLECTION blog.
Concept For Living Home & Garden 'Shhh... Seduction At 4.00 AM', United Kingdom
Concept For Living Home & Garden 'Future Deluxe', United Kingdom
The Cank Street Gallery Open Art Exhibition, United Kingdom
West End Gallery The Winter Show, United Kingdom
YouTube TV Nizal Nco 'What's Up With Nizal', Malaysia and worldwide
TV3 'Borak Kopitiam', Malaysia
TV3 'Malaysia Hari Ini (MHI)', Malaysia
RTM TV2 'Fresh Brew', Malaysia
RTM TVi & TV OKEY 'Inspirasi & Idea', Malaysia
ASTRO Astro Oasis 'Sunnah Home', Malaysia
TV9 'Nasi Lemak Kopi O (NLKO)', Malaysia
TV9 '9 Soalan', Malaysia
BBC Two 'Tom Kerridge's Best Ever Dishes', United Kingdom
RTM TV2 '(HOT) Hello On Two', Malaysia
NTV7 'Bella', Malaysia
NTV7 'The Breakfast Show', Malaysia
Channel 4 'Property Ladder', United Kingdom
Radio Emas, United Kingdom and worldwide
Ewana FM, Malaysia
Talk Radio Europe, Spain
Leith FM, United Kingdom
King's Lynn International, United Kingdom
Atlantic FM, United Kingdom
Mid West Radio, United Kingdom
Bernama Radio 24, Malaysia
UITM (University Technology MARA), Malaysia
Staffordshire University, United Kingdom
Camden School For Girls, United Kingdom
UITM (University Technology MARA), Malaysia
Francissca Peter Video '35th Anniversary Sekadar Di Pinggiran Album', Malaysia
Donna Summer 'Donna The Vinyl Collection Special Thanks To...', United Kingdom
Donna Summer 'Donna The CD Collection More Special Thanks To...', United Kingdom
Bryan Ferry Video 'Olympia Book Signing At Selfridges', United Kingdom
Francissca Peter Video 'Sekadar Di Pinggiran 2010' (Just On The Edge 2010), Malaysia
For full collection of my press coverage visit IN THE PRESS page